In 2012, the United Nations designated March 20th as the International Day of Happiness, with the first being held in 2013. Social Life's newest colleague, Stephen McConnachie, recently completed a PhD focusing on happiness and wellbeing in Uganda. He spent part of today exploring a few of the connections between happiness, place, and the urban environment. Here he shares a few of the most interesting initiatives he found.
The #happysheffield project analyses recent tweets in Sheffield to assess the prevailing 'mood' of the city. This is an innovative and engaging use of digital technology to analyse feelings related to places or events. On this website you can also input your own (or any other) Twitter handle to see the 'mood' of your own tweets.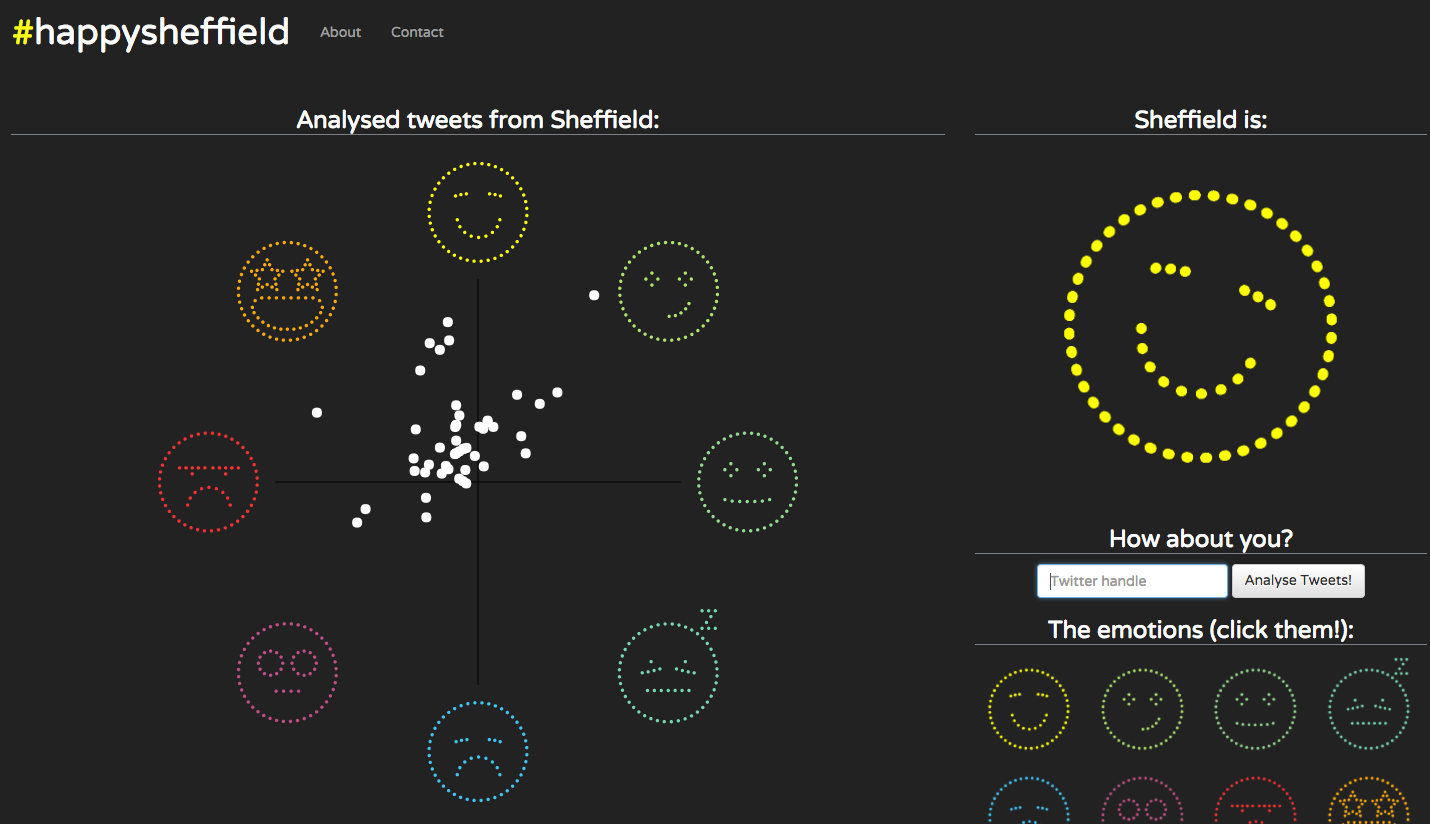 Image capture from #happysheffield from 5pm on Monday 20th March
This is an initiative from Bristol involved in assessing and promoting happiness in cities. They've developed the Happy City Index, which uses a variety of domains to holistically evaluate city conditions that promote happiness. An overview of the 2016 results for a selection of UK cities is available here.
This article from National Geographic Traveller India considers how we might design a 'happy city'. It focuses on Copenhagen, a city where Social Life is currently doing some work, and the city which is often cited as the 'happiest' city in the world (although the northern Danish city of Aalborg also has a claim to this title as Social Life researcher Emma Nielsen has explored).
In Vancouver, a different organisation called 'Happy City', also works on how to design cities that enable and promote happiness. Their aim is to 'enable everyone to design more health and happiness into their city'. The organisation's founder, Charles Montgomery, is the author of a book entitled 'Happy City, Transforming Our Lives Through Urban Design'.
Finally, and tying in with another strand of Social Life's current work, here is an article from The Guardian looking at how the discipline of neuroscience can be utilised to study how people feel about urban spaces with the intention of developing knowledge that will enable us to design better cities.