"You are very welcome to come and sit… This is actually the longest bench in Denmark! Everybody can sit here!" (user of Enghave Minipark)
At the far end corner of Enghave Square in the neighborhood Vesterbro in Copenhagen, a small shelter, benches and a table form a meeting point for a group of the area's more marginalised citizens. The Minipark is a temporary space, created following the extension of the metro in 2010, which turned most of the former square into a building site. The shelter is an initiative between local community groups, artist Kenneth Balfeldt, Spectrum Architects and most importantly, many local beer drinkers. It continues a tradition of placemaking in Copenhagen, where instead of installing hostile architecture or excluding marginalised citizens from behaving in ways that are not considered 'social', inclusion is seen as an essential part of creating a resilient neighbourhood.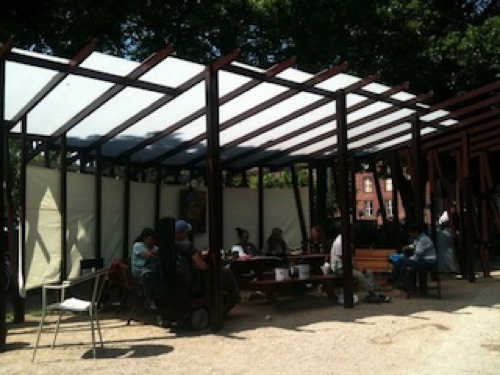 (Pressphoto by Kenneth Balfeldt)
As with many other places in Copenhagen, Vesterbro has experienced a change in demography with more affluent entrepreneurs and families moving in, and the long-standing working class community slowly moving further out to the fringes of the city. When the construction of the metro took over most of the square in 2010, a group of 30 to 100 local alcoholics lost the space where they had spent most of their days, a space that had provided them with a social network. As a space had been provided for skaters and new cafés post-metro, it was clear to the community of Vesterbro that there needed to be somewhere for the beer drinkers to continue to be part of the community, instead of being pushed further away.
In 2010 the process of finding a new place for the group started and in 2012 the new Minipark opened with a 45 metre long winding bench, a shelter in the middle, a urinal at one end, barbeque grills, and a small garden with herbs at the other. The project was set up with support from the council, arts funds, local funding and sponsorship, but it was only due to hard work by the users that the place could come into existence. The group of alcoholics were thought of as 'super-users' of the public sphere and their knowledge about the social life of Enghave Square was considered as valuable as that of the architects and developers. Since its launch in 2012 the users, together with local authorities, have been responsible for maintenance and making this a space where people in Vesterbro can meet.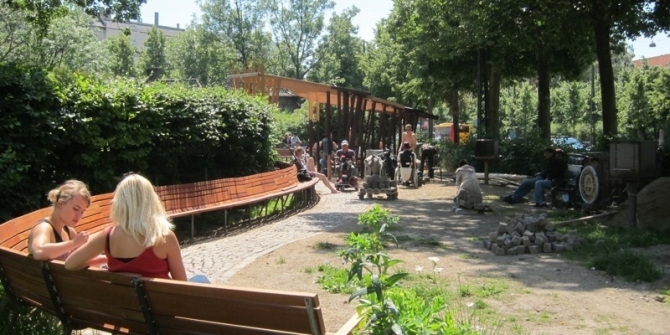 (Enghave Minipark, pressphoto by Kenneth Balfeldt)
One of the explanations for the community's initiative to create the new Minipark can be linked to the 'Vesterbro Mentality', which insists on the area being a place where everybody should be able to belong. Enghave Square, before it became a building site, exemplified this attitude. The success of the former square was partly because it was community-led, in a similar way to the new Minipark.
Local community groups initiated a transformation of the square in 1995. With its green areas and benches and seating, the square became renowned as a space that allowed social interaction between different groups and where marginalized citizens, mostly drinkers, could have a sense of belonging. They were not seen as a threat but instead a natural part of the community – they knew the surrounding bars and cafés, got food for their dogs from the hotdog stand and helped to make the area calm and safe.
Danish research, 'Byen som Dagligstue?' (translated: 'The city as a Living Room?') looked into how planning spaces like the old Enghave Square can help demystify and include marginalised people. The report describes how, at one time, the street drinkers saved the neighbouring café's outside tables and chairs from getting stolen. The report found that the overall atmosphere was safe and there was an experience of people looking after each other, 'at this square people smile at each other even though they do not know each other', two girls said when interviewed about their experience of the atmosphere at Enghave Square ('Byen som Dagligstue?').
This research concluded that by understanding the needs and fears that marginalised groups face in public spaces, urban planning can help create a much needed safe space and form the basis for positive interactions and experiences of being part of the surrounding community. By creating spaces with a fence or roof as shelter from rain and bad weather, as well as necessary facilities like bins and tools to maintain the space, the users took pride in in protecting and maintaining the spaces. Moreover the research showed that because the groups had something they could lose, they self-regulated loud and 'anti-social' behaviour and made an effort to create a good relationship with other users and neighbours.
When I visited the Enghave Square in February 2015 users proudly pronounced that over there was 'the longest bench in Denmark' and 'everybody is welcome here'. Despite cold and rainy weather people kept coming and going, and during the time I was there five people arrived to join the small group. The atmosphere was friendly and talkative and people were happy to inform me about the history of the Minipark. I had a conversation with one of the users who talked about how he had been part of building the place three years ago and even though he liked the old one more (because it was easier to go and find a quiet corner in the park if discussions got too excited and loud) he liked the new space and felt a sense of ownership over it. Overall the users were content with the Minipark, describing how the design was inviting to all sorts of people, and created a public space where everybody could come and sit and talk together.
In the UK, as hostile architecture like anti-homeless spikes on window ledges or in corners of buildings, and pivoted benches where it is impossible to lie down or skate, become more frequent in our public environment, it is increasingly important to ask who public space is for. Rowland Atkinson, co-director of the Centre for Urban Research at the University of York, has noted that anti-homeless spikes are part of a broader "pattern of hostility and indifference towards social difference and poverty produced within cities ... If you were being a bit cynical but also realistic, it is a kind of assault on the poor, a way of trying to displace their distress." Similarly Ocean Howell, professor at the University of Oregon points out that: "when you're designed against, you know it. Other people might not see it, but you will. The message is clear: you are not a member of the public, at least not of the public that is welcome here."
Hostile architecture works to prevent behaviours and occlude certain citizens from the public realm. The reasons why it is difficult to meet and see people who are marginalised, such as those suffering from homelessness or substance abuse problems, is often not a result of any physical threat. The threat is instead more subtle and invisible, where their presence may expose the aspects of our society that make us uncomfortable, forcing us to openly acknowledge their existence. Preben Brandt, psychiatrist and director of 'Project Udenfor' describes the feeling as not a fear of us ending up as marginalised but because it points at our fragility, our vanity and the intrusive necessity of normality (cited in 'Byen som dagligstue').
Challenging what and who public spaces are for are at the core here. Initiatives like saving the South Bank undercroft for skaters, or Assembly SE8's work to turn a closed park into a public common, are London's examples of saving spaces that inform alternative frameworks for the public commons. The question is how to create public spaces which are able to include people that fall out of society's institutions. This discussion has been taken up in networks like Theatrum Mundi, where designing commons are a focus.
After being part of the community for three years Enghave Minipark has become an asset for the community to meet and get in touch with each other, and continue the valued Vesterbro-spirit. What examples like this one can teach us is that instead of moving social problems out of sight with hostile architecture, it can be beneficial for urban planners to take into consideration different groups' different use of public space, and its value to society as a whole. Architecture cannot solve deep-seated social problems but it can be used strategically to include all citizens in communities and give them a sense of belonging and support.
Bibliography:
Emma Nielsen is an intern at Social Life