Jeff Porter from Age UK Lewisham & Southwark and Lavanya and Olimpia from Social Life share their reflections on our collaborative research project to understand clients' experiences of the Food2You delivery service. The research was part of Social Life's pro bono work for 2022.
Social Life trained the Food2You team in research methods and supported them throughout the process. We put sharing of expertise at the centre of the research. This meant working together to refine the research questions, identifying the most appropriate research protocols (given the characteristics of the Food2You clients), choosing research methods and how to present the collected data. This project brought together a range of people with different skills and expectations, including members of the Age UK Lewisham and Southwark staff, administrative volunteers, delivery workers and shopping volunteers.
Our research showed how important the Food2You delivery service is in making its users feel more connected to the local community and services, particularly by providing an opportunity to socialise. We found that some people relied on Food2You to get what they need to prepare meals or feed themselves.
We would like to thank the Age UK Lewisham & Southwark staff and volunteers, and the Food2You clients who shared their experiences and views with us. We are grateful for their expertise and the time they put into this work.
Jeff, Director of Services at Age UK Lewisham & Southwark reflected:
"I was aware of the work that Social Life, and Olimpia in particular, had carried out with Age UK Lewisham and Southwark previously as part of a Citizens Research Community project they helped with in 2021. I promised to keep Olimpia's details for any future research projects that may arise. This didn't take long!

Our Food2You shopping delivery service provides those aged over fifty living in Southwark, support in accessing food where they have difficulties getting out or accessing community support due to physical or mental health issues. Although we have previously undertaken evaluation of our Food2You service through customer feedback, which showed that our service was much appreciated and needed, I wanted to carry out a more detailed research project to gather information on the impact our service had on clients, so that we could evaluate if it was still fit for purpose or make changes where necessary and to also help us to make the best impact for any future grant funding bids. This is the first time we have sought collaboration with an external specialist centre of research.

I contacted Olimpia about potentially carrying out this research with us and was delighted that after a couple of initial fact-finding meetings, that Social Life agreed to take this on. Having been part of research projects in various forms in the past, I was surprised at the detail Olimpia and Lavanya went into with the whole Food2You team and volunteers, to explain what research is and the process of research so that they felt informed and educated to be part of the project and empowered to take an active role.

Staff and volunteers in turn provided their own insight and experiences of the Food2You service. This joint education and information sharing process, helped us to form the questions and interview tactics required to get the best possible reaction from our clients, who could be difficult to interact with on surveys, which in some part was quite different from what we initially started with.

Hindsight is always a wonderful thing. As we started out, I was keen to get the most information we could from clients whilst they were keen to engage. Olimpia and Lavanya were incredibly patient in dealing with suggestions and potential changes to questions we initially started out with, by bringing their experience from previous research projects and keeping focus with the goals and outcomes we started out with. I am grateful for the fact that they were able to extract extra information from the interviews and surveys without adding extra questions or deviating from the plan.

The whole research process was enjoyable thanks to Olimpia and Lavanya's approach, even when it looked like the timetable would have to change. I am extremely grateful to Olimpia and Lavanya for their input, professionalism and the final outcome of the project report which was completed on time, and I can't wait for the next one we can work on together!"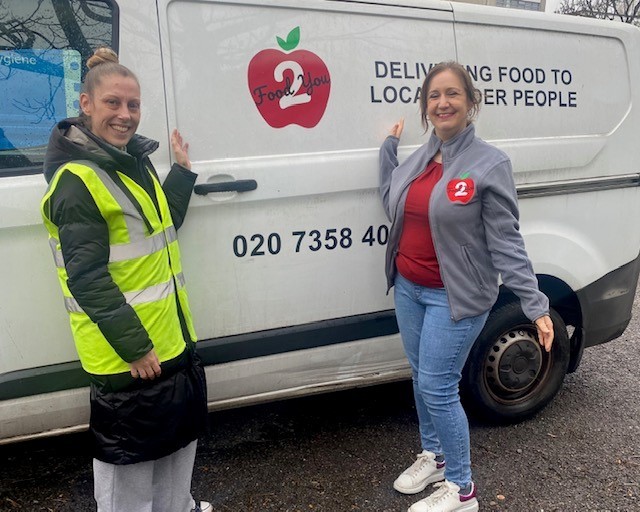 Lavanya, Social Life researcher, reflected:
"Working with the Food2You team was a new experience, the first project to take place in person after the COVID-19 pandemic. With the project taking place over spring and summer, it wasn't too much of a chore to walk down Bermondsey High Street, to the Yalding Healthy Living and Learning Centre.

The approach to this project was designed to be collaborative throughout. This process, from the beginning, was a stimulating experience. Every session, including the research training and the focus group with volunteers, always ended with a feeling of empowerment and deep appreciation for the team and the Food2You service.

We had the opportunity to learn about the service and its impact from different members of the team. There was sharing of knowledge and expertise with the Food2You team, for example by workshopping together the client questionnaire we built on the experience of the delivery team who interacted with the Food2You clients. This included changing or rearranging questions to ensure that the clients understood them and were able to complete the questionnaires with ease.

When we started the data collection, one of the aims was to envision how the Food2You could work as a tiered system. As we learned more about the service and heard more from the team, we began to realise there may be other paths to explore. This was a learning curve for the team. We started to think differently, and the report became a tool to explore what the service could become. The report ended up probing how the Food2You service can evolve to empower clients to get out and shop for themselves.

One aspect of this project that was surprising to me was how succinct research training can be. Although our training was compact and didn't go into the depths of research methods it gave everyone a base level understanding. The sessions were full of energy and enthusiasm to contribute to the project.

If we could embark on this collaborative journey again, one thing worth I would do differently is spend more time with the delivery team and provide even more learning and sharing opportunities. I would like to be more present, and I would put extra effort into assisting the delivery volunteers to find the time needed to put their training into practice. Research tasks need to be thought out carefully to avoid adding pressure on volunteers during the team's very tight delivery schedule. Perhaps, if there was time available, we would hold a feedback session to allow the whole team to reflect on their experience. This could be a learning opportunity for us as researchers for future projects."
And final thoughts from Olimpia, programme lead at Social Life
"Key to this research was the Food2You team's knowledge and rapport with their clients. To me, this was not only a substantial asset but also the reason why this project needed an approach that put partnership building at the centre. We wanted to be able to build on the skills and relationships already in place to understand the service and the context in which it operated.

The work promised to bridge between research and action, which felt particularly relevant given its focus. The team sought to understand clients' experiences with the Food2You delivery service, and to explore alternative systems of food delivery that could perhaps better serve the needs of Food2You clients. A collaborative action research design seemed particularly suited for our collaborative journey. The approach allowed us to secure the trust relationships needed to provide access to the clients' experiences and journeys with the service, while putting in place a robust process of data gathering and reflection.

Like community or peer research, collaborative practice has recently been fraught with questions about shifting power in practice and tokenism. What do you do to avoid such pitfalls? There are many answers out there, but the straightforward answer is to take the time to build partnerships, to listen and, many times, to learn how to listen. Time is key. And there is never enough time, as Lavanya's reflection shows. But I felt we were well situated to take on this work because of our previous collaboration with Age UK Lewisham and Southwark in 2021,on the Citizen Research Community initiative to train and mentor a group of seniors and carers. I thought working together again would take our team closer to our goal of building local research capacity in Southwark.

The collaborative research we launched together with the Food2You team used a combination of methods to capture the expertise of the diverse group of volunteers and staff supporting the Food2You service, and to make sure that it was accessible to different clients. The mixed-methods research design allowed the research team to document a range of experiences and build an understanding of the impact that their Food2You service had on clients.

Reflecting on this work, I cannot stop thinking about the implications of this research. One of the main things we learned is that, for many clients, the Food2You delivery service plays an important role in making them feel more connected to the local community and services. And that the key social contribution of the Food2You service is to provide an opportunity to socialise.

These findings bring attention to the barriers experienced by older people in Southwark, and the complex ways in which a food delivery service becomes a holistic service that improves wellbeing as well as increasing access to food. This collaborative study raises questions about whether there needs to be a more holistic approach to food security in Southwark. Some local organisations are already making strides in that direction, looking at new models for food shopping and exploring ways to create a local network of places to buy affordable, healthy food. My hope is that our collaborative work with the Food2You team can help inform new approaches and support new partnerships that can address the gaps we identified."