Our recent work for Hackney Council looked at the impact of the Shoreditch & Hoxton Art Fund and how this approach to using section 106 contributions to revenue fund community arts and culture could be replicated by other councils.
Our research describes the positive impacts of the Fund on community relationships, on mental health and on opportunities. It shows how resources leveraged from development in more affluent south Shoreditch have been successfully directed towards neighbouring Hoxton where deprivation is higher.
The Shoreditch & Hoxton Art Fund distributed over £250,000 in revenue funding over three years. £228,000 was raised in match funding. The funding started before the pandemic so projects had to adapt their plans and delivery methods to adjust to lockdown and COVID restrictions.
The Fund aimed to use public art to improve social cohesion, make arts and culture accessible for all and create new opportunities for the residents of Hoxton. It strived to build a sense of community and representation in local culture in an area that often does not feel any benefits from nearby development.
When arts investment is channelled close to local communities it maximises social impact, boosting wellbeing for individuals and local communities. In areas going through regeneration and new development, particularly where there are deep inequalities in income and life experiences, community arts can build a sense of belonging and social capital. They can bridge differences between longstanding residents and people moving into the area. They can reflect and reinforce local identity and recognise different local cultures, making visible the strengths and the assets of the area.
Social Life researchers spoke to Hoxton residents, and to community organisations, artists and makers and traders involved in projects supported by the Fund. We heard that new connections had been made, 93% of the participants mentioned meeting someone new. There was evidence of improved health and confidence, half of the participants attributed positive improvements in their mental health to their engagement in the projects.
Funded organisations reported that the biggest long-term benefits of participating in the programme were the connections they made through the project, the local partnerships that were formed and the new audiences they reached through the work.
The new connections, networks, learnings and career paths that have been seeded will make sure that the impacts of the projects will live on long after the completion of the grant funded work. And our toolkit will make sure that other areas can learn from Hackney's experience.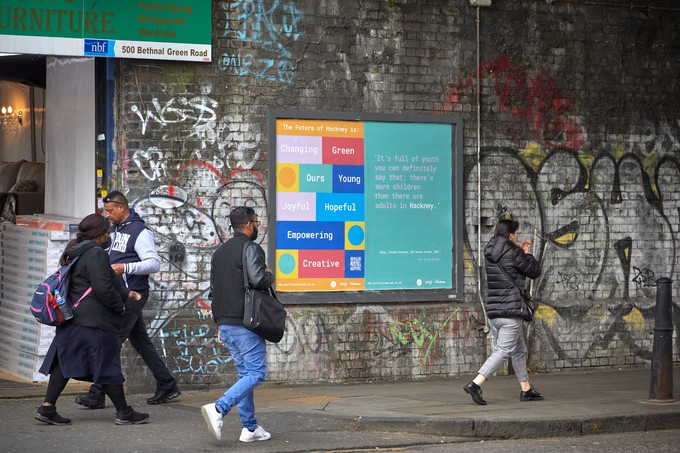 Photos: #HackneyIsHome billboard projection delivered by Autograph ABP, in partnership with Mouth That Roars [top]; Your Future Worlds billboard delivered by Eastside Educational Trust © Tom Harrison [bottom]