Sewoon Sangga is a concrete 1960s shopping centre in Seoul. Visiting Seoul in November, we took a trip to look at the redevelopment of this brutalist building, intrigued by what we had heard about how this had been approached through adaptation and evolution rather than demolition. Here we found lessons for London, particularly for our local shopping centre at Elephant & Castle.
Modern Seoul has some fantastic and rightly well-known public spaces, particuarly the Chonggyecheon stream and walkway running through the heart of the city (which replaced a flyover) and Zaha Hadid's Dongdaemun Design Plaza. But for us the stand out new space was Sweoon Sangga, not because it was the most beautiful but because it had most resonance.
What has been done to Sweoon Sangga is relevant to people who are thinking about the future of down-at-heel shopping centres and concrete buildings internationally – the key lessons being that you don't have to demolish to repurpose and modernise, and that by saving the physical structure you can also save the social structures and the social value.
Sewoon Sangga is unusually large, even for a brutalist megastructure. It is a linked series of shopping centres, like a series of ocean liners, stretching over a kilometre, cutting through a low-rise and dense part of the city. It was originally designed by Korea's eminent modernist architect Kim Swoo-geun to combine shopping, residential and office spaces, separating cars from pedestrians.
It was important to post war reinvention of Seoul: "Upon the first few decades of the completion of the construction of the project, the Sewoon Sangga was a symbol of the fast growing economy of postwar Korea as it was able to attract investors and boost consumption in the district".
However, as happened to many similar buildings, it fell into disrepair, further decline and stigmatisation, often being voted the most ugly building in Seoul. Its use has changed over time and in recent years it has become a teeming centre of very small electronics shops.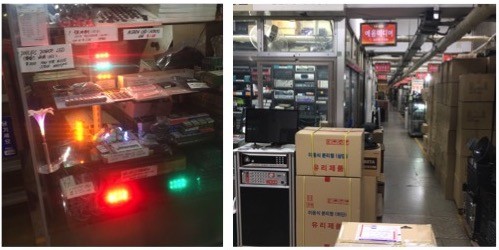 Demolitition was inevitably proposed. However Seoul's reforming Mayor Won-Soon Park, elected in 2012, decided instead ­­­to renovate Sewoon Sangga. The proposal and design emerged from an international competion among architects, the aim being to create "a hub of urban culture, tourism and industries".
This has been achieved by taking the existing concrete structures and repurposing them, surrounding them in new walkways and space that act like a protective shell, wrapped around the existing buildings. This has opened up spaces for new facilities, a maker space, design shops and architectural firms, and a roof garden with an amazing view featuring a small but flourishing vegetable garden.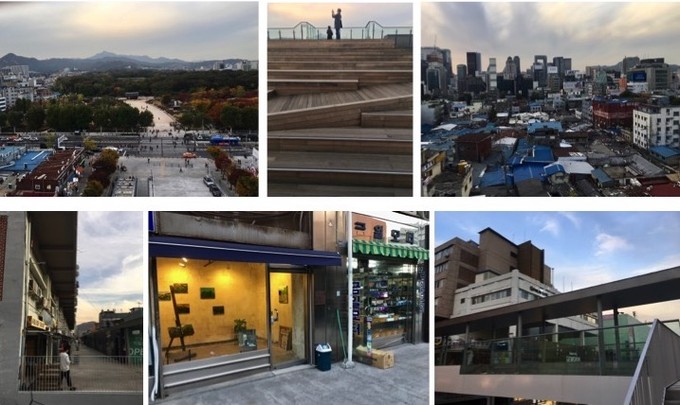 The development has taken what Sewoon Sangga has become, and adds new purposes, bringing it into the 21st century without losing the value and energy of what is well established. It does not try and hide the old concrete but works around it. The redeveloped centre now brings together traders selling LEDs, mending CCTV systems and selling a mulititude of electronic parts with people using the fablabs, enjoying the view, urban gardeners and shoppers.
This incremental and evolutionary approach could be applicable to shoppping centres like Elephant & Castle in south which is, controversially, due for demolition soon. Phychogeographer Ian Sinclair may have described this as an "extermination facility for asylum seekers" but our research in 2014 revealed its social value, exploring how the shopping centre, and its traders, are supporting communities, particularly the Latin American community, through employment, advice, support and solidarity.
This redevelopment has found a way of maintaining the things that are adding social value, respecting the value of ordinary buildings, and updating and adding new facilities and uses that are fit for the future decades. We should look at this experience closely to see how we can begin to develop something similar for London.