For the last 18 months Social Life has been working with the Gloucestershire-based charity Barnwood Trust to develop an online resource, the Social Sustainability Tookit for Gloucestershire. We have done this in the belief that more can be done to turn new housing developments into flourishing communities that support all residents to thrive.
The toolkit is aimed at everyone involved in planning, designing and building new housing developments in Gloucestershire - the content is also relevant to established communities, and to people working in similar rural areas.
We have collaborated with Barnwood Trust for several years, running training sessions on social sustainability for built environment professionals in Gloucestershire. Barnwood's core mission is to support people with disabilities and mental health challenges through building belonging. Their interpretation of their remit is broad: in order for people living with disabilities to flourish, the whole community needs to become inclusive and accepting.
Social sustainability becomes a useful tool in this context, a way of focusing attention on how places can boost wellbeing and community capacity. This is important in a county like Gloucestershire where there are big targets for new housing, strong established communities, and pockets of disadvantage among more affluent areas.
We were very pleased to be asked to develop a toolkit, because we know that while social sustainability intuitively makes sense to a lot of people involved in creating new communities, working out how to do this in practice can be bewildering.
Our aim was to make the toolkit relevant and achievable – and to avoid examples which are inspirational, yet undeliverable. To do this we needed to understand how experiences differ for people living and working in different parts of the county.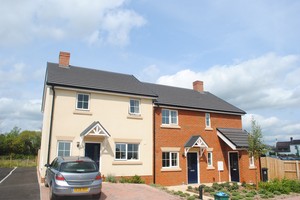 .
New homes at Churcham in the Forest of Dean and plans for Ham Mill in Stroud
Our conversations revealed the varied experiences of communities and agencies across Gloucestershire. From The Forest of Dean where poverty is higher and land values are lower, and where agencies told us they are grateful when any housing is built, to Stroud in the east where land values are higher and there is more confidence in new approaches. Building at scale is rare, apart from in the areas in the south of county, and South Gloucestershire District, were there is an overspill of new housing development from Bristol.
Many things frustrate the practical delivery of socially sustainable new housing developments. Although resources are important, we found that there are other important variables. The quantum of development in an area, and land values are important (where these are higher there is often more sense of agency among planners), but political will and officer confidence are critical. In some places we observed how, over time, and through experimenting (sometimes through failure) knowledge and experience has given communities and officers a greater sense of leverage over planning processes and developers.
If professionals do not feel confident and empowered to take forward new approaches, and to think creatively about how to boost wellbeing and neighbourliness, then it is difficult to improve social sustainability. We hope that our toolkit will help build this sort of confidence. It is intended as a living resources, Barnwood Trust will be updating it so it can become richer and more effective over time.