Jessica Cargill Thompson writes about the Old Kent Road, a place characterised by a rich mixture of identities and activities, a unique mish-mash, a messy place. What will happen to this complex and nuanced sense of place as the Old Kent Road Opportunity Area plans develop? Is there a risk that the lack of a strong, coherent identity will mean that the area is treated as "empty" or "nothing", could this leading to a "tabula rasa" approach to regeneration and what could this mean for the people now living in the area?
During my recent research into place and identity on South London's Old Kent Road, I asked people living or working around the area to describe it as if to someone who'd never been there. "It doesn't really know what it is. It's a mix of industrial, retail parks, its residential. It's nothing," said one local. "A hotchpotch", "all mismatched", "a presence of blockages and voids", "a mouthful of broken teeth" were other, similar, comments.
The neighbourhood could be summarised as somewhere uncharacterisable. Lots of somethings adding up to a big nothing.
This might seem surprising given the Old Kent Road's status as a national icon – the cheapest square on the Monopoly board, forever associated with that rust-brown colour, and the go-to metaphor for anything a bit shabby or low-rent. It's a strong identity, but an imaginary one held largely in the minds of people who've never been there, and who probably couldn't find it in the A-Z.
To try to make sense of this "mouthful of broken teeth", let's start with a whistlestop tour. What now forms the first stretch of the A2 to Dover has always been one of London's main arteries, originally a Roman Road, used as a pilgrim's way to Canterbury and a processional route back from the continent, before becoming the main conduit for Kentish farmers bringing their goods up to the city markets. In the 19th century, a more settled population arrived alongside the area's industry, built up around a canal, railway yards and gasworks. With them came shops, pubs, churches, and entertainments. Throughout much of the last century it was the place for a night out, full of cinemas, pubs and bars, music halls and boxing gyms.
All of this history is recorded in Polish artist Adam Kossowski's brilliant 1964 mosaic frieze on the former North Peckham Civic Centre, though today most people walk or drive past without a second glance.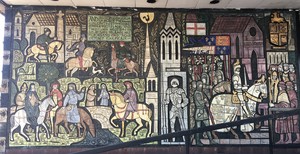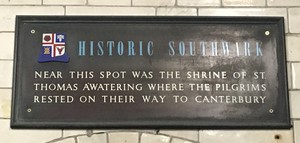 The gasworks are long closed, the canal filled in during the 1970s and the rail yards built over. Where once stood terraced streets are now carpark-based retail and mid-rise estates. Perhaps most surprising of all, there are only two pubs are left along the whole two miles of the road itself.
Amid the resulting jumble, traces of an older, deeper Old Kent Road do still exist: a listed gasholder tower, a couple of industrial brick chimneys, a blue plaque on Henry Cooper's former boxing gym on the now-closed Thomas a Becket pub, a slight rise and fall in the road where there was once a canal bridge.
The economic legacy continues in the 800 businesses, producing an eclectic range of goods, from hand-made trays to artisanal beers and stage sets. The 19th century costermongers and traditional merchants of the 20th century have at one end of the road morphed into a bustling multicultural high street serving a number of new communities, at the other into car-park based retail parks detached from the road lending an atmosphere of desertion.




The road itself remains true to its primary purpose, filled with lorries thundering towards the Channel Tunnel and walls of red double decker busses, plus the coterie of tyre yards and car washes that serve the motor.
The local population is just as mixed: North African men smoking hookah pipes in pavement cafes; Latin America families barbecuing in Burgess park; West African community spilling over from Peckham, Millwall fans; students from Southbank University and Kings.
Yes, it's a mish mash, but it's a unique mish mash, a messy place, but a place nonetheless. So why do we do we find it so hard to describe places such as the Old Kent Road? Or, worse, give up and just view them as nothing?
Part of this has to be the cacophony of different identities drowning each other out. There's also the invisibility of core activities such as industry and churches, which tend to be hidden in blank spaces sheds. In addition, the everyday activities of the Old Kent Road tend to be associated with noise, dirt, cheapness, and otherness – negative characteristics lacking in cultural, social or economic value, which provoke a political instinct to ignore or remove them.
Physically the urban space is difficult to engage with, either on foot or by car, impenetrably broken up by car parks, industrial sheds, security-protected wastelands, housing estates and the road itself. Visually there is no unifying building type or architectural vernacular. Only the multi-lane road and the huge sky over the flat landscape provide a constant motif.
And in spite of being linked by a single thoroughfare, local residents still stick to their individual neighbourhoods – Peckham, Bermonsdey, Walworth – rather than using the road as a shared focus. Indeed, it was as recently as the 2018 council elections that "Old Kent Road" became a single administrative ward, forcing some sort of collective conscience.
Why does any of this matter? Because the Old Kent Road has been designated an "Opportunity Area" by the Greater London Authority, meaning it has been identified as a site for massive regeneration, with a radical Area Action Plan currently being drawn up by the London Borough of Southwark.
Into this complex landscape will be inserted 20,000 homes, two tube stations, new schools, and undisclosed cultural attraction, and several tall towers. The not-so-small challenge, therefore, is to ensure that the area isn't seen as a tabula rasa upon which a brand new place is created, but that the rich palette of existing identities are incorporated into the shiny new vision of the futu
Jessica Cargill Thompson is a writer, editor and urban researcher specialising in city life and neighbourhood identity.
To contact Jessica, email jessicact@btinternet.com
Jessica writes: "I carried out the research for my MSc dissertation in Urban Studies at UCL between 2016-2018. Like many South London residents, I previously knew it only by reputation and had spent years travelling along it, but I had never taken the trouble to get off the bus and take a proper look around. I, too, was guilty of dismissing it as 'nothing'. Having witnessed the radical reshaping of nearby Elephant & Castle, I was also aware that big changes were set to sweep down the road and I wanted to capture what was there before it disappeared.
I've continued my involvement with the area and its regeneration as part of local community group Action OKR, establishing a space for public engagement at 231 Old Kent Road, where we'll be running free workshops over the weekend of 8-9 June as part of the London Festival of Architecture."