Social Life and Hawkins\Brown have been investigating how social infrastructure enables social integration in London, part of a Mayor of London's Good Growth by Design research inquiry that will report this autumn.
Our fieldwork finished in January, and as the UK went into lockdown in late March, we saw how the the social infrastructure operators and agencies we had been in contact with, mainly in Catford, Homerton and Surbiton, stepped up to play a vital role in helping their local communities manage the impact of COVID-19.
Social infrastructure has a crucial role to play during crisis, mobilising local relationships and providing support. The impact of the COVID-19 pandemic is particular, it stopped Londoners being in contact with each other and, during the starkest periods of lockdown from March to May, kept us all indoors. As lockdown started, many pieces of social infrastructure closed - from community centres, to places of worship and the cafes that are important meeting places for particular communities.
In May and June we returned to the agencies involved in our earlier research to find out how they had supported their local communities. And also to understand the impact of the first months of the pandemic on London's social infrastructure.
We were told how lockdown catalysed new ways of working: library staff at Barking Library started contacting vulnerable people who used their services proactively rather than waiting for them to come to the library, something they plan to continue after reopening. Assets and resources were repurposed. A carpark at Here East became a centre for food distribution, the hall at Pembroke House stopped hosting community activities and also became a food hub. In Surbiton a WhatsApp group for parents, linked to a youth football group, responded to appeals for help early on. Users of sports facilities in Burgess Park became volunteers for Pembroke House, delivering food by bike across Walworth, coordinated by Burgess Sports - an assocition of sports clubs using the park.
Hyper local networks rapidly became important after lockdown. Groups of residents organised at the scale of the street, in mutual aid groups, larger spaces hosted smaller organisations such as food banks, individual residents became couriers and befrienders, and micro-public spaces emerged as places of one-to-one support, the Corbett Community Library in Catford started offering doorstep conversations.
All these examples show the importance of complex webs of relationships and how they underpin the flexibility and adaptability that is needed to respond at speed to crisis.
The experience of lockdown has brought the effectiveness of community-led solutions to local challenges into view. More organic grass-roots initiatives often found it easier to flex and react quickly than larger institutions. Boroughs' ability to adapt can be undermined by their formal structures and overstretched services. Where partnerships were already in place – like Lewisham Local, hosted by Rushey Green Timebank – taking action was easier.
Food was at the heart of many emergency support networks. St Mary's Church in Homerton joined with youth social enterprise The Wickers to quickly develop a food distribution system ,collaborating with The Felix Project, supported by funding from the Wick Award. Sikh Gurdwaras, with rich experience in cooking large-scale charitable meals, provided food packages in Homerton, as well as in Barking and Dagenham and Redbridge.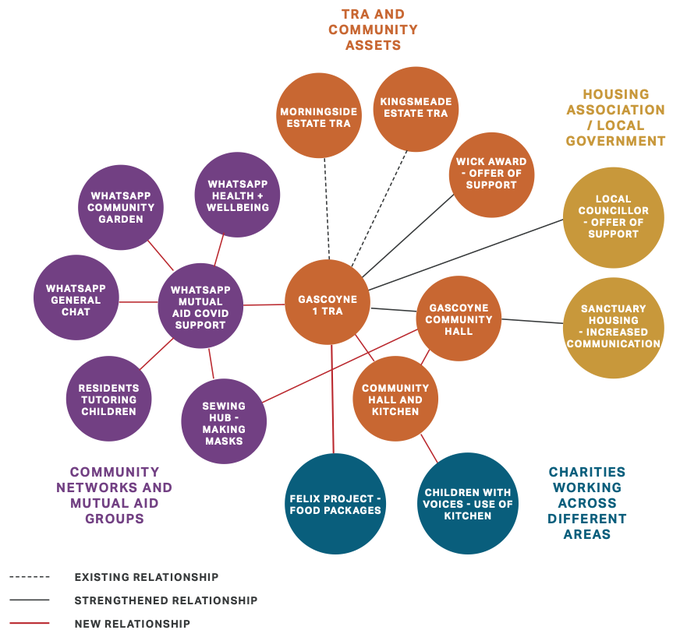 This diagram shows the food support network in Homerton, centred around the Gasgoyne 1 TRA.
We found a renewed appreciation of the social value of high street and local independent businesses. Traders and local businesses became part of the community response – like the owner of Progress Barber in Catford who set up an informal foodbank - highlighting their important roles as part of local social infrastructure eco-systems. In Surbiton we were told of the community's optimism about the future of their high street with new demand from the many residents now working at home.
However, the cumulative impact of austerity and neglect hindered the ability of both community spaces and council-run spaces to respond to communities' needs. Many community organisations are financially precarious and the crisis, and its aftermath, threatens business models, use and income streams. There are fears of the cumulative impact in the autumn of the ending of emergency funding, furloughed volunteers going back to work, and sharply rising social needs.
Stakeholders report overwhelmingly that the COVID-19 crisis brought different communities together. Existing relationships were crucial in responding effectively, allowing communities and agencies to build on trust that was already in place. At moments of crisis, many residents become involved in their local communities in new ways.
Social infrastructure has been at the epicentre of London's response to the COVID-19 pandemic, this intense period gives insights into how social infrastructure supports the resilience of local communities and neighbourhoods broadly and points to lessons for funding and supporting social infrastructure to support London through the difficult times coming this winter.
This research was part of the Mayor of London's Good Growth by Design research inquiry into social infrastructure and social integration. The full report will be published in Autumn 2020.