As part of the London Festival of Architecture, Social Life hosted an event in Elephant & Castle to explore the different identities and histories of our area, and what this means for the future. Affectionately known as 'the Elephant', the area is changing radically as a result of multiple regeneration projects. 'Whose Elephant' was an opportunity to bring together local groups, planners and researchers.
On a warm evening, the Social Life office began to fill with faces old and new, over an exhibition that highlighted Social Life's research into the social value of green space in Walworth.
Diana Cochrane, a member of the Pullens Resident Association,opened with her insight on the early history of the area as London's flower gardens, the squatter community of the 1970s and 80s who left their mark in the coops and studios in Walworth, while David McEwan from Latin Elephant shared the story of the Latin American community who have shaped and claimed the Elephant as a hub in the city.
The talks closed with Nicola Bacon sharing the work of Stephen McConnachie on the role of urban nature in shaping perceptions of place and identity in the area.
As drinks and snacks were passed around, a lively Q&A closed the evening.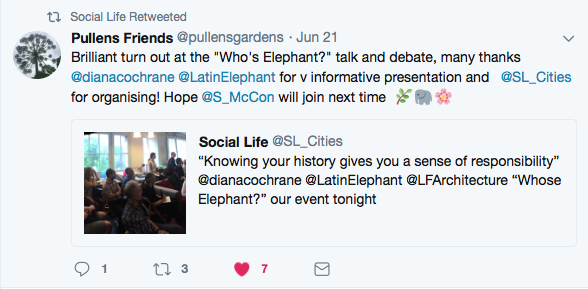 Social Life's work about our local area includes:
Grow Elephant: social impact survey
Researching the Social Values of Urban Nature: A brief guide for individuals and community organisations
'It all has a story': Social Values of Public Realm Urban Nature
The feeling of a place : a psychogeographic exploration in Walworth